Products
GUARDIAN air-cooled standby generators supply electricity to pre-selected circuits that power a home's essential services in the event of a utility power outage. The pre-wired, pre-packaged systems make installation easy and affordable.
GUARDIAN ELITE™ models are some of the most powerful and quietest air-cooled generators on the market. The exclusive Whisper-Test™ (16Kw & 18kW) feature allows the generator to run 50% quieter during the weekly self-test cycle.
Larger homes and small businesses with higher wattage needs require larger generators. The GUARDIAN Elite & QuietSource™ lines include liquid-cooled models that combine the Whisper-Test feature with greater power output.
With minimal investment, larger Guardian Elite commercial models protect restaurants, gas stations, offices, and other businesses with minimal investment.
All standby generators are available in natural gas or liquid propane gas.
GUARDIAN and GUARDIAN Elite™ Air-Cooled
THE #1 SELLING HOME STANDBY GENERATOR ON THE MARKET
Breakthrough Design: Creates the greatest starting power to run the items that matter most
Complete pre-packaged system
Generac OHVI Industrial Engine
Circuit Coverage: Protects 16, 12, 10, or 8 circuits of your home. 18kW can provide up to whole house protection
Superior Paint: Tough, textured paint finish for unmatched durability
Safe Design: UL listed/automatic voltage regulation and electronic governor (10kW – 18kW) for sensitive electronics
Whisper-Test: 50% sound reduction quieter during weekly self-testing (16kW and 18kW)
GUARDIAN Elite™ QuietSource™ Liquid-Cooled
BROADEST LINE OF GENERATORS ON THE MARKET
Liquid-cooled Engines: address the greater power needs of larger homes and small businesses
50% sound reduction quieter during weekly self-testing
Optional Steel: (tan) or corrosion resistant aluminum (gray) enclosure
Guardian Elite™ Commercial Series
CONTINUOUS STANDBY POWER FOR EVERY APPLICATION
Whisper-Test: 50% sound reduction quieter during weekly self-testing
Multiple voltages available:

120x240V (Single Phase)
120x208V (Three Phase)
277x480V (Three Phase)

Superior Paint: Textured finish improves coverage and durability
Safe Design: UL listed / automatic voltage regulation for sensitive electronics
Enclosures: available in both steel and corrosion resistant aluminum
Guardian Ultra Source™
THE MOST POWERFUL PORTABLE ON THE MARKET
15,000 / 17,000 Watt
Generac OHVI© V-Twin engine
Electric start – quick start
Electronic governor
16 gallon fuel tank
Wheel kit & heavy duty lifting eye
More standard features than any other portable
17,500 includes: 60 Amp manual transfer switch with 15′ outdoor power cord & external connection box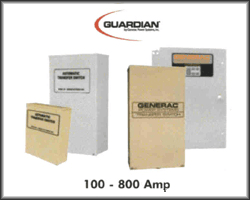 Transfer Switches
A TRANSFER SWITCH FOR EVERY APPLICATION
100 – 400 Amp for residential modules
Up to 800 Amp for GUARDIAN Elite Commercial models
Safe Design: UL listed
Load Manager
PowerMaster™ priority loads control system: makes whole house more affordable than ever before